FAQs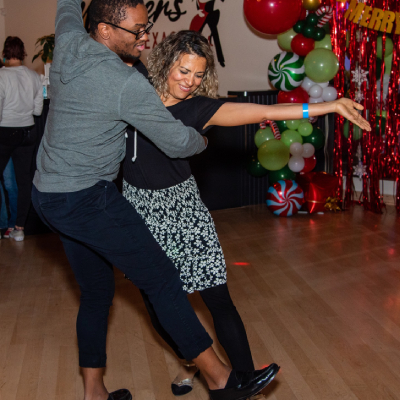 Q: Where are you located? A: DanceMakers of Texas (6125 SW Loop 820, Ste. 140 Fort Worth, Tx 76132).
Q: How much does it cost? A: $12 cash/card. This gets you into the group lesson (8:30 pm) and the social dance (9:15-11 pm). Payment is taken at the door.
Q: What do I wear? A: Dress comfortably; smart casual to semi-formal. Some of our dancers dress up in vintage attire but this is not required. Shoes should have some amount of slide (suede or leather soles). Try to avoid tall, pointy heels.
Q: What do you teach each week during the lesson? A: This changes month to month. You can find out exactly what style is being taught on our calendar. Our lessons are drop-in and beginner friendly.
Q: Do you provide food/drinks? A: Water is provided. We encourage you to bring your own bottle, and we have a BYOB policy.
Q: Where do I park? A: Parking is available in the large lot in front of the building.
Q: Do I need a partner? A: Nope! We rotate partners during the lesson and everyone asks each other to dance during the social.
Dance Styles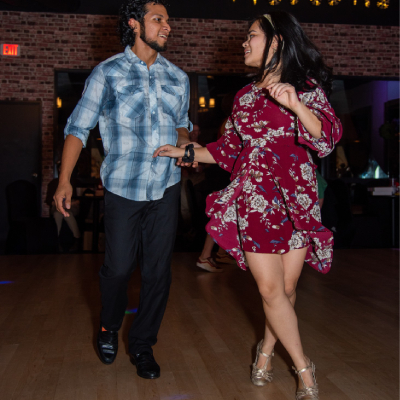 We teach a variety of dance styles, which rotate on a monthly basis. The style of swing we teach include:
Lindy Hop Charleston Collegiate Shag Balboa Solo Jazz
Looking for West Coast Swing? Check out
They can help you learn West Coast, and other dance styles including Latin, Ballroom, & Country!
Who are we? Jubilee!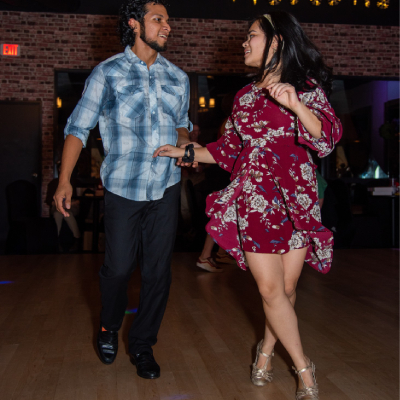 Our ultimate goal is to bring the love of jazz/swing dance, music, and history to everyone!
What you'll find here is a place to make friends, build confidence in your dance skills, stay healthy through movement, and so much more.